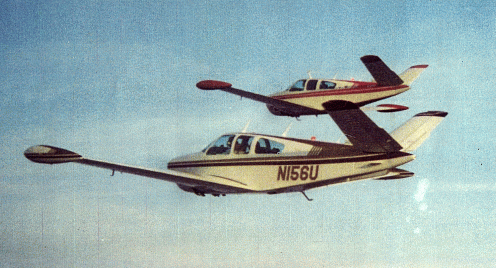 Here iss the picture of my plane, 156U in formation flight with 38065. The photo was taken from the 3rd Bonanza, 112TW.
We have been flying formation for about 6 years, almost every wednesday evening for dinner, sometimes on the weekends as well. We fly out of Van Nuys airport and our dinner trips include Big Bear, Santa Barbara, San Diego, San Louis Obispo, Oceano and Rosamond. We only go where the food is good! On occasion, other friends join us, flying a Cessna 210 and Comanche 180. Needless to say, it's a bunch of fun.
My Bonanza is a 68 V35-A, with about 4800 hours in it. I've had it for 12 years and I don't want anything else. Maybe a P 51!!, but who doesn't? It has all the goodies I'll ever want. Two KX 170B-s, Collins DME,and Transponder, KCS 55-A HSI , KR 87 ADF with slaved card,Apollo Loran, Garmin GPS, Graphic engine monitor ( it's a must!), Davtron clock a Brittain B5-P autopilot and Signtronics Intercom. The rest of the good stuff includes : Brittain tip tanks, McCauly 3 blade prop, large baggage door, Walker Air-scag and oil separator.
RP
---
$Id: index.html,v 1.1 1998/07/26 14:20:51 root Exp root $