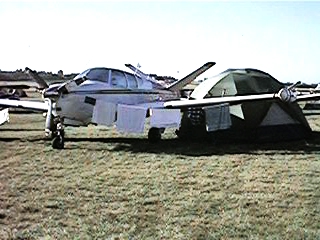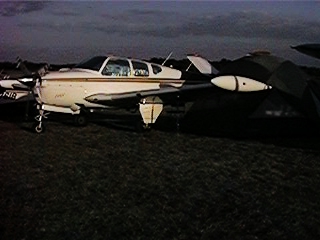 These are a few photos of my K -35 Bonanza, N191AA, which were taken at the 98 OSH show.
My K, as most are, is no longer original. It has the speed slope windshield, a IO520BA engine, tip tanks, flap/aileron gap seals, ventral fin (to off set the P factor as the engine is not canted), just to name a few changes.
As may be seen in to photos, the drying towels suggest that the airplane has uses other than travel.
Having owned this airplane since 1985, I have found this airplane to be an excellent traveling machine. With a power setting of 2300/21 inches (or full throttle), I burn 11.04 GPH at 150 KTAS. If I slow down to 2100/19 inches, I burn 8.4 GPH at 120 KTAS.
Thank you,
Thomas G. Pelz
ABS L19111
---
$Id: index.html,v 1.1 1998/10/11 14:36:31 root Exp root $