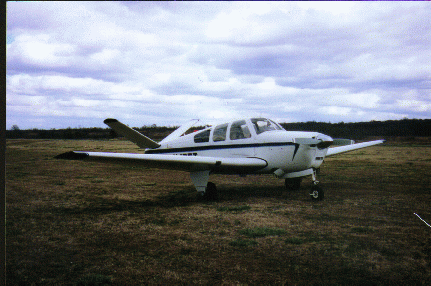 I have attached a picture of my 1947 35 Bonanza. My airplane is based in Wagoner Oklahoma I live in Broken Arrow Ok. it is just out of Tulsa. planes.
Spec Sheet
Cont-205hp 88inch-electric prop.
KMA-20 AUDIO PANEL
2-KX-170B'S Vor's and Glideslope
KING 8001 LORAN
KT-76A TRANSPONDER WITH ENCODER
INTERCOM
LOWRANCE GPS 100
KN-64 DME READY TO BE INSTALLED
I am currently undergoing a engine change from the 205 to the 225hp not just for the hp but old engine at only 900hrs was loosing to much oil pressure. That doesn't make for a good enjoyable flight. Will be back in the air I hope soon.
Thanks,
Eric
---
$Id: index.html,v 1.1 1998/10/11 14:19:14 root Exp root $