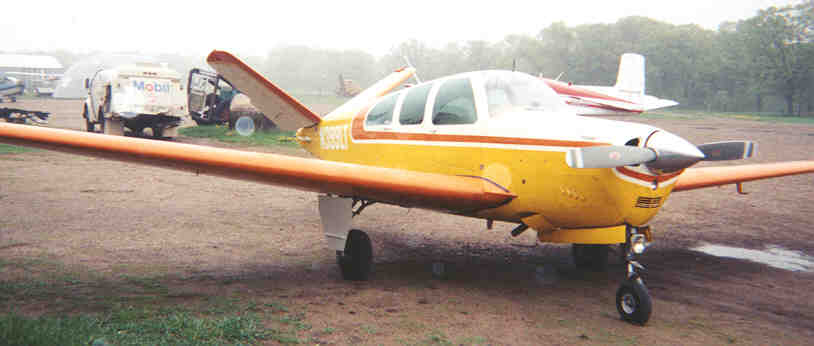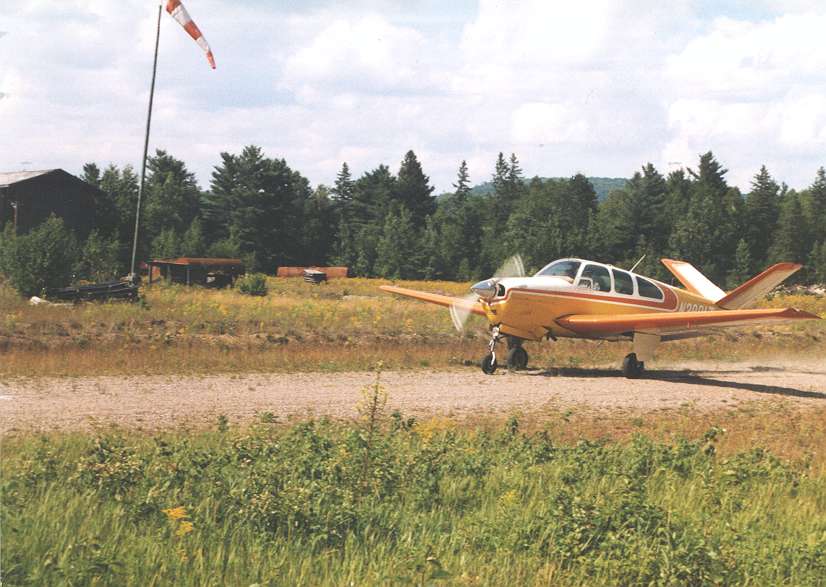 This is my 1962 P35, 5500TT. The picture was taken May '99 in Minnesota on the first day I saw the plane in person. I bought it sight unseen Dec '98 based on inspection and have so far been pleased with my choice. I will send a better pictures when I get a chance to scan them.
Biggest difference from stock Bonanza is the (Machen/Raineri) conversion from a 260 hp Continental to a super-reliable 300 Hp Lycoming IO-540 with a 2000 hour TBO. When I purchased the plane, the engine had 2700 hours since new and compressions were all still great! Fearing the unknown, I had the engine majored before I took delivery. Other mods include one piece windshield, Cleveland wheels, Standby vac system and ample avionics Com, Nav, ADF, DME, TXP/enc, Loran, Mkr Bcn, Audio Panel, Stand alone Narco Nav/GS - (GPS coming soon)
Primary use is for recreation and cross county trips to between Toronto and Caldwell New Jersey. The Bonanza has been perfect for this mission, great performance/value. I am very fortunate to have found such a great combination in my first plane.
The paint is still in great shape. When it gets tired, I am looking forward to replacing the bright yellow color. ... although it does kind of grow on you.
Andrew Cook
---
$Id: index.html,v 1.1 2000/01/20 21:45:06 root Exp root $