Howard Page's 1958 J-35 N8350D s/n D-5444 when it lived in Lakewood, New Jersey. Note the sandy soil -- Lakewood is located at the northern edge of the New Jersey Pine Barrons. The airplane is currently located in San Carlos, CA (SQL). It has approximately 5100 hours on it, the engine 800 SMOH.
This plane's equipped with:
TCM IO-470-C engine, producing 250 horsepower. This is the first year Beech offered fuel injection. I seem to belong to the cylinder of the year club -- I've been asking everyone in sight what I've been doing wrong, but haven't discovered it yet... When it goes, I'm thinking about getting a factory reman -N model.
McCauley 2A36C23-P-E prop.
STEC 60-2 autopilot. A great unit. On the trip back from Tahoe to SQL, leaving Tahoe I climb to 10,000 to clear Echo Summit, then program a 200 feet per minute decent into the unit and, at SUNOL intersection, the entrance to the Bay Area from the East, the airplane is near the required 2500 feet.
Masten six channel CHT/EGT meter plus fuel flow guage. I purchased it thinking that a unit that combines fuel flow and temperature would be a plus. Unfortunately, it has its problems: The guage is mounted low in the panel and difficult to read due to a parallax problem. All readouts are digital. Analog readouts for temperature would be best. And finally, Masten is out of business, from what I understand. Next time I'll buy an Insight and Shaden.
Normal complement of radios, Foster F-14 Loran, and Narco AT-50A Transponder.
The airplane has the following mods:
Cessna oil filter adapter along with a service bulletin (SE93-1 -- soon to be an AD?) that was just complied with.
InterAv alternator.
Aviation Research Systems, Inc. panel upgrade. It looks real nice, but the shop who installed it, Linden Avionics, located in Caldwell, NJ, swore at the time that they would never do another one again. It was a big job, which included completely rewiring my radio stack. They did a good job, though.
Ruddervator cuffs.
Cleveland brakes.
Ceiling vents.
Here's my wish list:
Osborne tip tanks.
Speed slope windshield.
Fancy GPS to replace my Foster F14 LORAN. Since the price/performance ratio of new GPS units seems to decrease every day, I'm in no hurry and will probably wait until the Coast Guard switches off the big red switch.
TCM IO-470N, IO-520, or IO-550. It's been said that it's not too difficult to find good, inexpensive 520's because of all the people that simply must have a '550.
The time to fly it to Europe!
---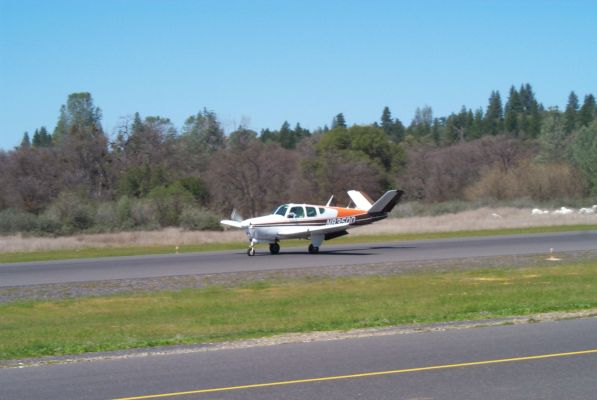 This picture was taken at Columbia, CA by Joe Garner on 3/26/2000.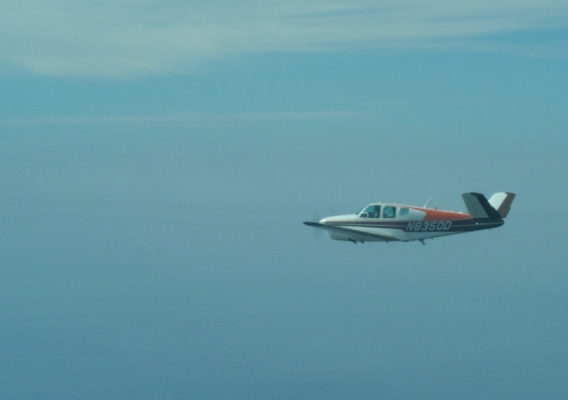 This picture was taken over the Central Valley, CA by Joe Garner on 3/26/2000.