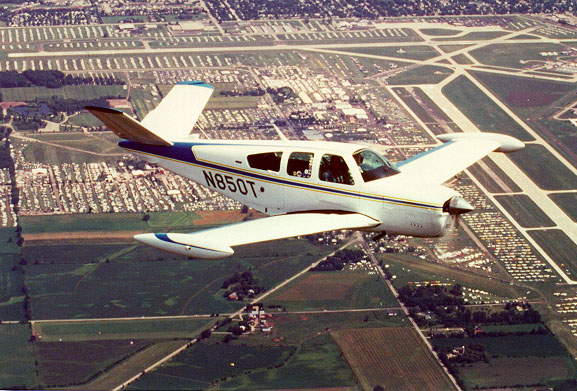 Wayne Collins says:
The photogapher is Joe Koepnick .. picture over Oshkosh Convention 1994. The plane is a 1972 V-35-B .. I bought as factory demo in August 1973 with 100 hours on the tach .. I am the only owner .. Over 5000 hours on airframe .. third Engine with 1600 on 10550B .. Flown over most of USA .. Mexico and Central America .. 1980 to Greenland, Iceland, Scotland, Norway ... 1986 Hawaii, Majuro, South Australia, Kula Lampur, Sri Lanka, India, Bahrain, Egypt, Palma Mojorca, Azores, St Johns ..1990 .. Hawaii, Tarawa, South Australia, Singapore, Sri Lanka, Seychelles, Zimbabwa, Capetown S.Africa, Namibia, Ivory Coast, Cape Verdi, Antigua .. 1995 Hawaii .. Pago-Pago .. New Zealand, Tasmania, S. Auatralia, Tarawa, Hawaii.
N850T has raced a little .. winning legs in cross country .. and second in the stock planes closed course race at Sun 'n Fun in 1994 and first in the same race in 1995. Having made three trips to Adeliade S. Australia and living in Texas N850T is called "Kangahorn" .. a cross between a Texas Longhorn and a Australian Kangaroo. The trademarked decal was removed from the back window when the picture over Oshkosh was taken.
N850T still has the original interior and was painted for the first time in December of 1993 by Pop Poplawski and his son Francis in Enis Texas ..their work is simply the best.
N850T has been the lead Bonanza in Bonanza's to Oshkosh and last year the flight set a world recorr for the largest general aviation formation and was chosen one of the 10 most memorable flights of 1995
We have now closed Bonanzas to Oshkosh VII with 100 signed on. Paul Poberezny has assepted our invitation to lead the flight this year departing Rockford 1530 July 30.
---
$Id: 850t.html,v 1.2 1996/06/28 04:02:04 root Exp root $