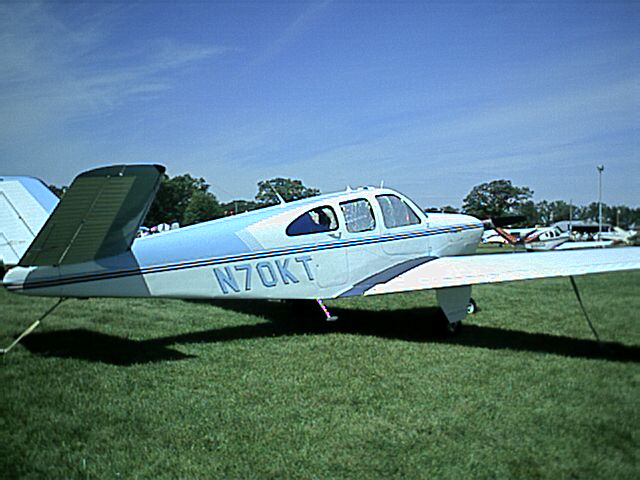 Here is my 1953 "D 35" picture taken at Oshkosh 2001. I bought this plane and became the third owner in 1984. I fly it about 100 hrs per year.
One of the first things added was Lew Gages Oil Filter adaptor kit. Cleveland wheels and brakes were added in 87. In 1992 I personally stripped and repainted it in 5 weeks start to finish.(never again) It has the original electric prop and the E-185 / 225HP has 1100 hrs since OH (dad helped with that), still doing better than 12 hrs / qt with the 4 ring piston.
I LOVE MY GARMIN GNS-430, coupled to a Century 2B Autopilot. A KX-155-KI-209 is the #2 radio. The WX-10 Stormscope has been invaluable during thunderstorm season. A PM-2000 intercom has a music jack to which I connect a portable CD player or an MP3 player on those long flights from home in Muncie, Indiana to places in Florida, Pheonix, Oregon and the many places between. The Bose headset is also a necessity as far as I'm concerned. We also have 3 Telex ANR headsets for the other seats. My wish list would include a speed slope windshield and at the same time the center stack radio panel (another a 5 week project).
I have flown a multitude of piston singles and twins and there is nothing like the light easy controls of an older Beech. "Cirrus SR 22 has light controls, but it's way out of our price range."
Ken Talhelm
avsupertek@aol.com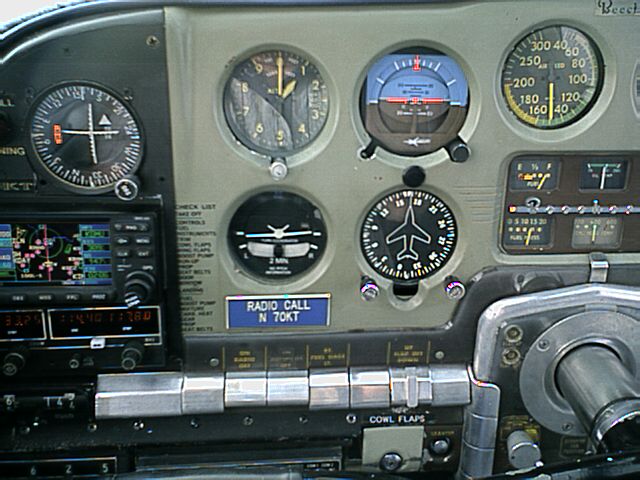 ---
$Id: index.html,v 1.1 2002/04/17 22:30:03 root Exp root $