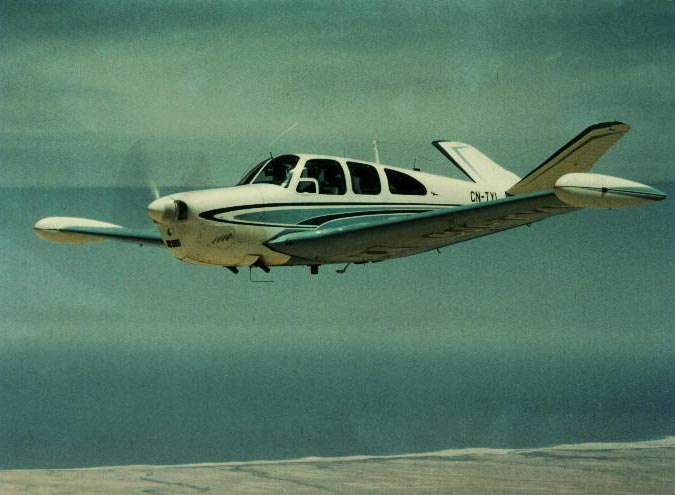 Bonanza P35 with tip-tanks and Continental engine 265 hp with call sign of Morocco CN-TYI photographied many years ago along a mediterranean cost of Lybia from an other Bonanza during a trip to Egypt and my best memory was the flight approach over the Pyramids !!
I have been 10 years owner of this V tail Bonanza when I lived in Morocco (Beechcraft dealer ) and I used this plane only for travels to Europa and Africa, also around the mediterranean countries like Greek isles and so on. It cames from Wichita in flight after an atlantic ferry flight ( 10 hours range )
With the Baron 55, there are my greatest flights memories.
Now I live in France Cote d'Azur and I fligh over the Alps with glider
( lovely montains flights ) and sometimes with a friend's Streerman to UK for old-timer meeting. Very nice !!
One time, I'd like to come to Oshkosh meeting just for fun.
Congratulation about your internet Beechcraft pictures and have a nice flight for all pilots on these super aicrafts.
Best regards from a french friend. Claude Jambea
---
$Id: index.html,v 1.1 1999/04/14 02:39:23 root Exp root $