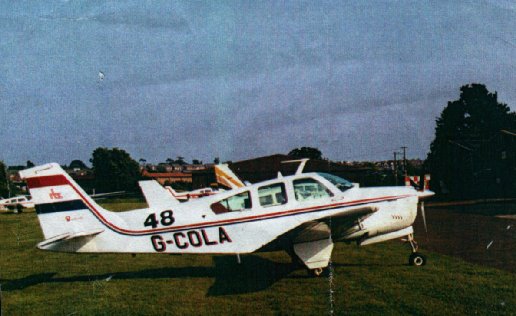 This 1978 Bonanza F33c was one of a number sold to the Dutch when new and were used for Training by KLM. I purchased this in 1992, one of about 12 sold at that time in the U.K.
The aeroplane is fully aerobatic and has over 6000 hrs on the airframe
Despite it's need for a new paint job the plane has served me well for nearly 9 years travelling all over Europe, especially journeys from UK to Spain.
I intend to bring it to the US in 2001 and fly it around the States.
The aircraft has participated in handicap Air racing in the UK and was the Winner of the 1995 Schneider Trophy Air race held that year in Shoreham on the South Coast. of England
The engine was overhauled in 1998 and has about 400 hrs.
After my sojourn in the US I might decide to sell it and buy a Baron.
John Kelman johnkelman@pmmltd.freeserve.co.uk
---
$Id: index.html,v 1.1 2000/08/20 05:43:19 root Exp root $